Marine Debris
A Sea of Plastic
EAC works to keep our rivers, estuaries, beaches, and oceans clean through partnerships within our community to reduce or eliminate single-use plastics and coordinate beach and waterway clean ups throughout the year. We accomplish this work by organizing events, supporting legislation, and working with our local community to find pathways for West Marin to lead by example for a cleaner future that is less cluttered by the build up of single use disposable items.
PROGRAM AREAS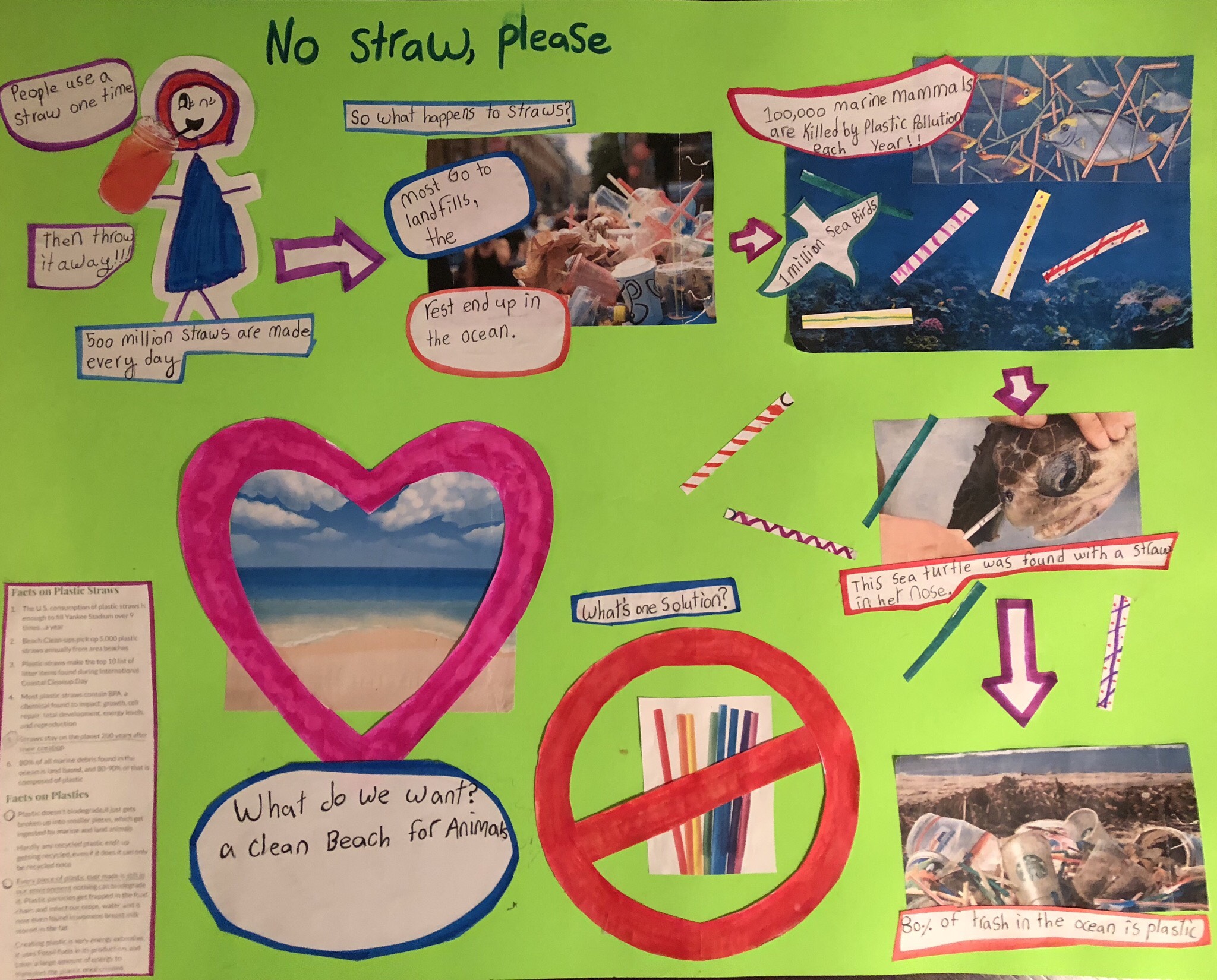 In early 2018, EAC was contacted by third grader, Viola, who was deeply concerned about plastic in the environment and in the ocean. Viola was interested to see if she could make some changes in her local community to reduce single-use of plastic straws.
It was a perfect match!
In the summer of 2017 EAC's college interns designed a project for West Marin to reduce plastic straw use. EAC shared our resources and agreed to sponsor the project and teamed Viola up with another local third grader, Reese.
The girls got to work, to begin a project about the dangers of straws with an action request to visit local restaurants to change to plastic straw alternatives and straws upon request.
Learn More

The International Coastal Cleanup began more than 30 years ago, when communities rallied together with the common goal of collecting and documenting the trash littering their coastline.
In West Marin, EAC partners with other organizations and business partners to coordinate beach and waterway clean ups.
In 2017, EAC, Hog Island Oysters and Marconi Conference Center sponsored a Tomales Bay Clean up that harnessed the Power of People to Fight Ocean Trash Along Tomales Bay, an international Ramsar Site, or Wetland of International Importance.
We had over 60+ volunteers, and removed 1,000+ pounds of debris out of the Tomales Bay watershed. The event was followed by an amazing friends barbecue.
Learn more about EAC's Coastal Clean Up Day and save the date for the upcoming event!
Litter bugs me
roadside cleanup

Litter Bugs Me, a roadside clean up, was founded nearly 20 years ago by West Marin residents Rigdon Currie and Dennis Rodoni, now our Marin County Supervisor, before it was handed off to EAC in 2009.
Let's face it our roadways get trashed! As an unincorporated gateway community to national parks, state parks, open space, agricultural lands, and a residential community, West Marin is a hot spot for Bay Area tourism. While tourism helps support the local economy, we also notice we get a lot of trash piling up along the roadsides after the busy summer tourist season. In a effort to clean up before the first winter rain and storm fronts, we asking you to get involved, and get outside to help us clean up.
Learn more about EAC's annual Litter Bugs Me and save the date for the upcoming event!
CONTACT US TO SIGN UP TODAY!
Please contact us via email or phone (415-663-9312) if you are interested scheduling your students with EAC for environmental education.