No Straw, Please!
Frequently Asked Questions for Local Businesses
Thank you for taking the time to speak with Viola and Reese about the substantial environmental impact of plastic straws. (If you have reached this page but haven't yet spoken to the girls, please email info@eacmarin.org to arrange a time! It's fun, they're cute and non-intimidating, and it makes for a great photo-op.) Here are some frequently asked questions for business owners on going plastic straw-free.
What are you recommending we do?
We are asking businesses to provide straws only upon request and to purchase only biodegradable straws (paper, plant-based, metal, glass, etc).
Why is now the time to stop serving plastic straws with this campaign?
Viola and Reese shared the number one reason: straws are littering our beaches and harming our sea life. They're also a low-hanging fruit in reducing plastic waste: businesses show their ethical stance without substantial investments, customers walk away happy, and our local beaches are cleaner.
Additionally, right now is the best time to go plastic-free because momentum is growing. In just the last six months, dozens of straw campaigns have lit up the news cycles. McDonald's announced it is going plastic straw-free in the UK. British Prime Minister in April called for a nationwide ban. Manhattan Beach, Seattle, Malibu, Davis, San Luis Obispo, and other cities have passed ordinances to ban plastic straws; Berkeley, Oakland, and San Francisco have ordinances in the works. The California legislature has introduced a bill to require straws only on request. Straw campaigns have been in most major news outlets in recent weeks, including the New York Times ("Bans on Plastic Straws in Restaurants Expand to More Cities," https://nyti.ms/2FOJcqp) and CNN ("The last straw: Is time up for this plastic relic?" https://cnn.it/2pbwryb).
What kind of publicity or media coverage should I expect if I participate?
Local children are running the campaign, and your participation signals involvement and support of our coastal communities. We expect local publicity as a result of our outreach campaigns to local newspapers, radio, and online/social media groups.
Your participation will be visible for visitors to our region as well. Participating businesses who move to paper straws and to a "straws upon request" model will be listed and mapped on the EAC's No Straw, Please webpage, and tagged on social media. We will also input your business into various straw campaign listings like #TheLastPlasticStraw's directory at https://thelastplasticstraw.org/restaurant-directory/. We will also do outreach to regional news media as well.
How will I let customers know of the change?
We will provide PDF templates for flyers and a simple table topper to announce your participation in the No Straw, Please West Marin campaign.
Will customers be happy with the change?
A year after single-use plastic bags were banned across California, this LA Times editorial noted that consumer backlash was mild, public health fears were unfounded, and -- the whole point -- less plastic trash was generated: https://lat.ms/2jbumPx. Anecdotally, businesses in our region have noted that customers expect West Marin businesses to make strong efforts to reduce plastic waste, especially considering our proximity to the ocean. You can expect many customers to applaud your efforts.
How much will the change cost?
This chart, created by Hula's BBQ in Chico, Calif., shows that the "straws on request" model reduces the number of straws that are given out, partly or mostly offsetting the cost of paper straws. Aardvark, a leading paper straw provider, estimates that you will expect at 40% reduction in straw usage by adopting a "by request" model -- but that's for restaurants across the country, not in environmentally-conscious West Marin, where we can expect greater cooperation and understanding -- even enthusiasm -- from customers. West Marin's primary food distribution services including Cotati and Sysco carry alternative straws.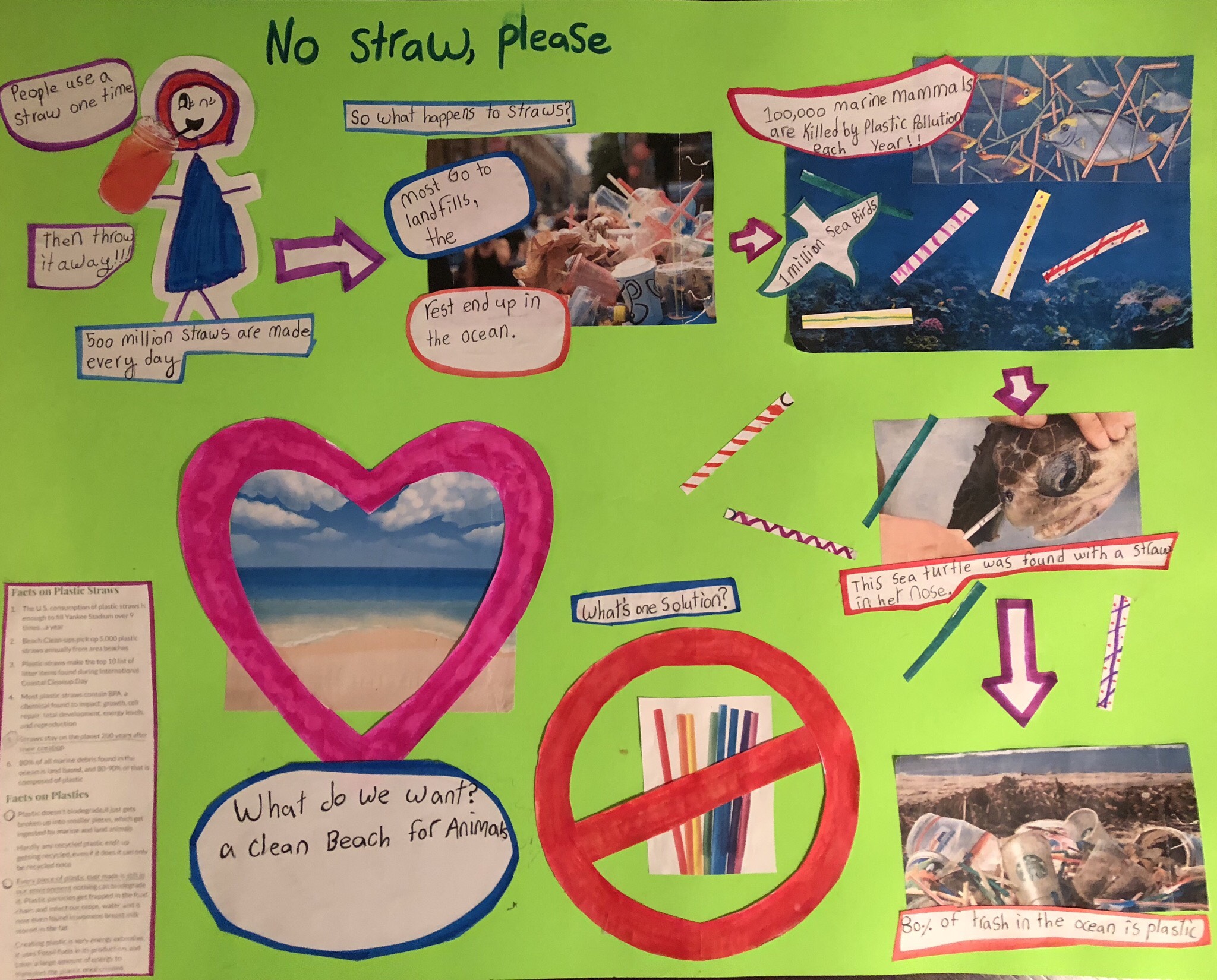 Join Viola, Reese, and their classmates in signing a pledge to remind your waiter, "No straw, please". Commit to using eco-friendly reusable straws like metal, bamboo, glass, or paper when you want a straw at home, and Bring Your Own Straw (BYOS). You'll be joining thousands across the U.S. in pledging to reduce single-use plastics that end up in our marine environment.
Click here to take the pledge!
why ditch plastic straws?
Viola and Reese wrote a Letter to the Editor to the Point Reyes Light explaining their reasons:
"500 million straws are thrown away in the US every day. Straws may seem not that important but they don't biodegrade, they just get broken into smaller pieces, which get eaten my marine animals. We need to stop using plastic straws."
West Marin businesses are invited to join the girls in refusing plastic straws and offering "straws upon request."
Many businesses are up to the challenge! Thank you to Hog Island Oyster Co. for your pledge to use paper straws! Check back here for a map of restaurants as the girls secure more commitments from local restaurants -- and make sure you let your favorite restaurant know that you appreciate their commitment to cleaner oceans.
Local Business FAQ